Website: http://www.localfoodsconnection.com  
Mission: Local Foods Connection (LFC) partners with local farmers to provide fresh environmentally sustainable food and nutrition education to Grinnell residents in need.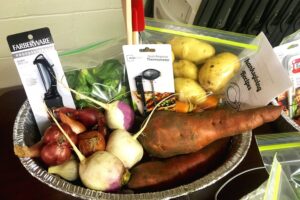 Location: Grinnell (4.5 miles from Grinnell College)
Needs: Grant-writing, social media, delivering food during summer months.  How-to guides supplied for operations.
Volunteers: currently internship opportunity only.
When is service needed: Longer periods of service needed, commitment of at least a couple months or longer
Modality:
In-person: Yes
Hybrid in-person/virtual possible: Yes
Fully virtual possible: yes
Prerequisites: Driver's license for delivery roles
Background check required: no
Equipment/logistics needed: Vehicle needed for summer internship for food deliveries
Training supplied: LFC has years of successful grant applications to use as models for future applications.
Contact: Laurel Tuggle-Lacina, (515) 451-7923, INFO@LOCALFOODSCONNECTION.COM
Operation information: Connects with 15-20 clients on-going each season
If you are with this organization and need to update your listing, please access our update form on this page: For Community Partners